This is my first break of Topps Chrome baseball 2012. It may be in blaster form, but thought I would give a review of the product since I hadn't busted any. I know its a few months late, but like they say, better late than never!
Box Break Down:
7 Pack Per Box, 4 Cards Per Pack
1 Bonus Pack of 4 Blaster Box Exclusive of Purple Refractors
$20 PER BLASTER BOX
Base Cards
Rookies..got great ones like Yu Darvish and Yoenis Cespedes
BASE CARDS:
Once again, its Chrome. What is there not to like about the base cards? However, I will say one thing about them, they have a tendency to bend and these ones as you can see in some photos did. That could be a problem with them down the road.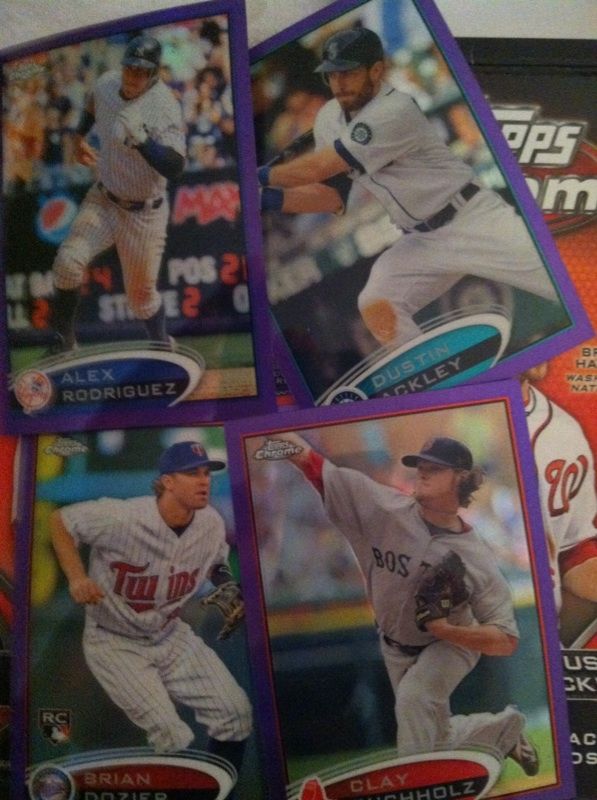 INSERTS:
You gotta love the beauty of the refractors. No matter what color they come in.
AUTOGRAPHS:
NONE (Though pulling some from retail is never out of the question)
JERSEY/PATCH CARDS:
NONE
OVERALL THOUGHTS:
Another great buy. For your $20 you at least get that back if not times two. Buying Chrome at any level whether its packs, box, blasters, retail or hobby you can't go wrong. I like the addition of the bonus purple refractors to the blaster. Makes chasing down Yu or Harper even better in this product. Another thing to note are the Sp photo variations you can find as well.
RATINGS:
Bloggers Note: Our ratings are based specifically on the blaster, box or packs we opened and do not express what the overall product could bring. Ratings based on a 1-5. 1 Being the lowest and 5 being the highest.
Packaging:
4
Base Design
:
5
Insert Design:
5
Memorablila/Autographs:
N/A
Blaster, Hobby Box, or Pack Value:
5