First off, I would like to say thanks to the WONDERFUL people at Panini America for providing us with this box to review. Here are many places you can find Panini America:
official site
,
blog
,
Twitter
, and
Facebook
. If you don't follow them at all..you should! They talk to you on Twitter, have contests on their blog and Facebook and the site is also fun to visit!
Box Break Down:
20 Packs Per Box, 6 Cards Per Pack
Two Autographs and One Memorabilia Card Per Box
Two Starbursts and Thirteen Inserts Per Box
Collect a 240-card autograph checklist
Find Starburst and Artists Proofs Parallels
Under $90 a box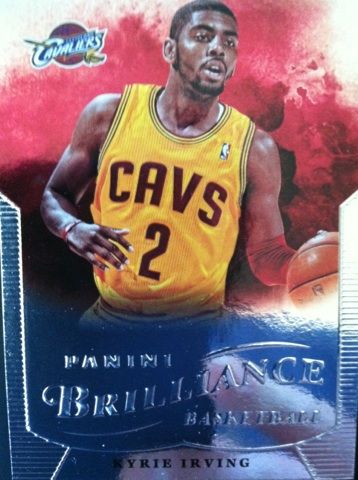 BASE CARDS:The base design, is done on all silver foil board. The Panini Brilliance writing and side lines is uplifted off from the card like braille. The background color of the card matches the main team color in the front making for a fun card design that also helps the player jump off at you.

The base set is made up of veterans, legends and rookies. However the rookies are not marked rookies with the logo as you can see with the Irving above. I had to research the backs to find the ones I didn't know. The legends are great bringing back people for me a Knicks fan of John Starks and Allan Houston (tho he is in a Detroit uni) and other top legends like Larry Bird.

Overall, the design is very nicely done.

INSERTS: The inserts match the base cards in terms of silver foil board. I personally would have liked to have seen more here. The designs aren't bad at all as I enjoyed the base card design, but I was thinking more added color. Maybe even adding refractor like technology and/or some die cuts would have made these BOOM more.The Spellbounds stand out as the braille appears behind the player as a letter from their name as shown in the Irving card.

The inserts break down as so: Team Tomorrow (20 cards), Spellbound (100 cards), Scorers, Inc. (20 cards), Magic Numbers (15 cards) and the 25-card Springfield Hall of Fame tribute.

All of the inserts do have the braille or what Panini calls the raised feel to them.
AUTOGRAPHS:
2 autographs per box. The design between the two autographs we pulled was very similar in terms of a white box taking up half the card and the color design. Something could have been changed a little bit on them to make them differ more between each other. I would have liked to have seen a rainbow board done on the rookie autos for them to stand out more. But overall not a bad design.
There is a HUGE autograph checklist of 300+ players due to the 240-card autograph checklist in Marks of Brilliance and the 60 rookies in Brilliant Beginnings. Great variety and you never know who you will pull in a box.
JERSEY/PATCH CARDS: The jersey cards really standout here with the silver foil board and a decent size swatch jumps out. The player name is a little small and could have used bold lettering to standout more but the landscape design and look of these are great.
OVERALL THOUGHTS:
In the rookie debut of Brilliance basketball there are a lot of bright spots. The base card design, memorabilia designs are great. There are a ton of autographs in this product from a variety of players both young and legends of the game which is definitely a positive note.With a little tweaking in a few spots...Brilliance will be a great addition yearly to Panini's NBA lineup.
RATINGS:
Bloggers Note: Our ratings are based specifically on the blaster, box or packs we opened and do not express what the overall product could bring. Ratings based on a 1-5. 1 Being the lowest and 5 being the highest.
Packaging:
4
Base Design
:
4
Insert Design:
3
Memorablila/Autographs:
3.5
Blaster, Hobby Box, or Pack Value:
4