First off, I would like to say thanks to the WONDERFUL people at Panini America for providing us with this box to review. Here are many places you can find Panini America:
official site
,
blog
,
Twitter
, and
Facebook
. If you don't follow them at all..you should! They talk to you on Twitter, have contests on their blog and Facebook and the site is also fun to visit!
Box Break Down:
20 Packs Per Box, 6 Cards Per Pack
Each box contains 3 Autographs!
Vintage base card designs! Cutting edge inserts!
Collect the 250-card base set!
Find RC's of Irving, A. Davis, and Lillard!
around $75 a box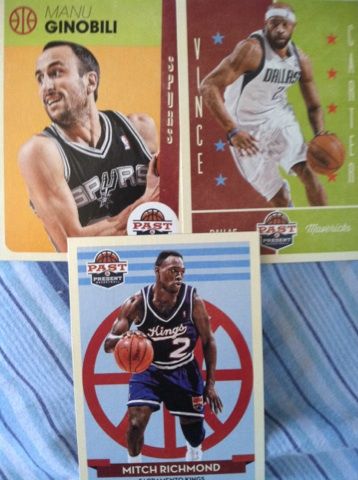 BASE CARDS: Just like last years design, the classic appeal, feel and even smell to the cards was brought back. Yup, its true, you actually can smell a classic scent. Once again, my eyes are drawn to the cards. I like the four subsets that make up this set. I think they are fun, eye catchy and groovy as they bring you back to the 60's and 70's era. Once in awhile its nice to take a trip back to the past with the present ...yes pun intended.

This is the breakdown of the base card set:
250-CARD BASE SET
50-CARD BASE VARIATIONS SET

The only disappointment here was in our box the lack of big name rookies with about one falling per pack you expect at least a couple in a box. Most rookies were ones we hadn't heard of with a few mixed in smaller names.

This kind of base card set is fun for people of all ages.And it would be a very fun one to put together.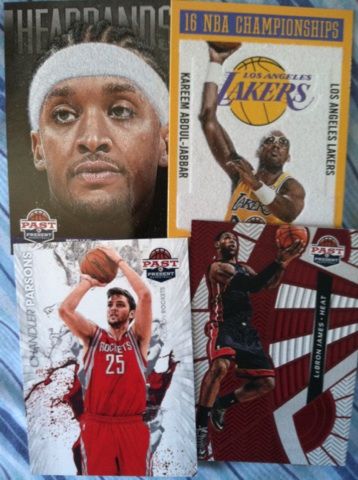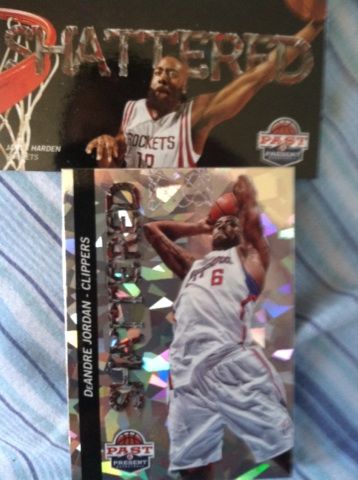 INSERTS:
For me, this product is all about the inserts baby! There are variations of the base cards Its like the base card in terms but has a diagonal line and different color scheme. These are tough pulls that seem to fall one per box. Here is the one we got: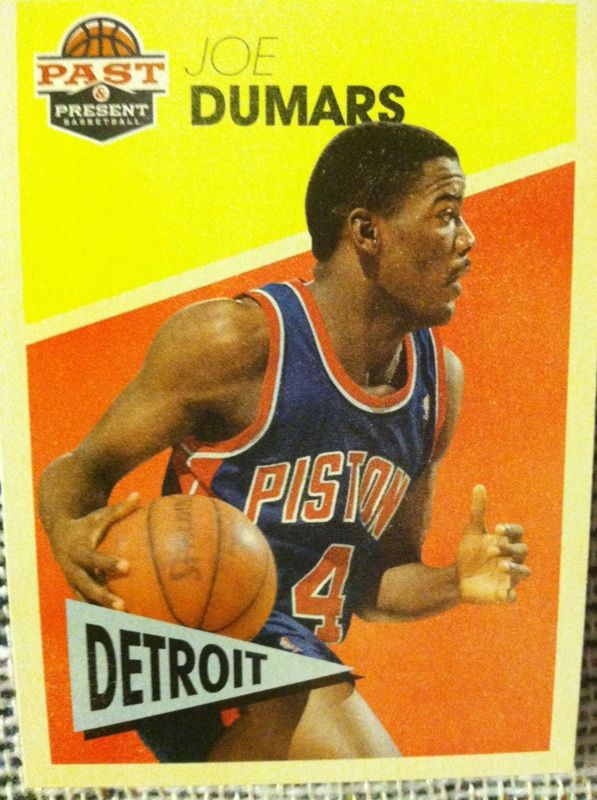 What I love about the inserts other than the newly added Cracked Ice with the insert Shattered (I really enjoy these) cards is the feel. Thats right...you can truly feel them. The Headbands and NBA Championship ones have a felt feel to them. Raining 3's is part gloss and part not gloss. They not only reminds me of 90's inserts with the creativity, they also remind me of a children's book. You know the ones where you can feel the pigs or the hay bails and so on. I really dig that and it brings more to the cards than just a piece of cardboard. The Rise and Shine insert is bold and retro.
Kudos to Panini for taking time on the inserts in this set. When you bust a box, I know you wanna, you will have the same enjoyment with them as I did.I actually looked forward to pulling the inserts.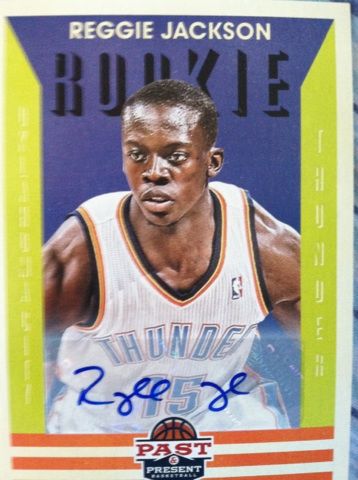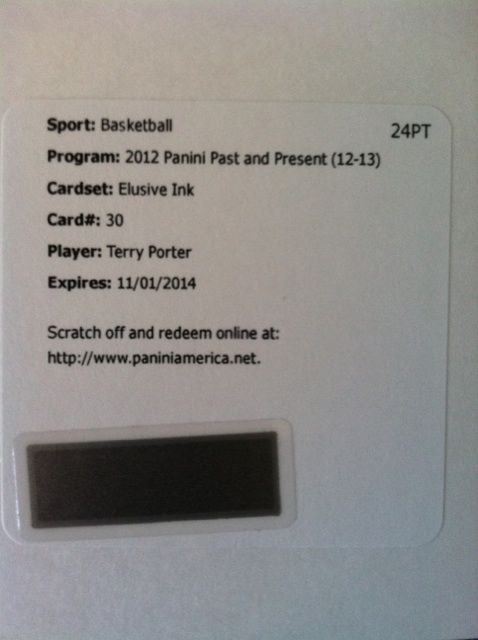 AUTOGRAPHS: Three autographs in every box. Ours had an Elusive player in Terry Porter (redemption), a rookie in Reggie Jackson and a current star in Stephen Curry who had an incredible playoff run. His auto was very welcoming to see. I like the fact that Panini added the autographs to the classic base card design. And I like the fact at least in this box they gave you a try of each autograph available in the product. You know, its Past and Present.
The autograph checklist is also made up of legends, rookies, elusive players and current stars. The Elusive Inks are of Elusive athletes that you may not find in everyday basketball card products. Some you may not have even heard of in years or maybe if you are a young one, not at all.
JERSEY/PATCH CARDS: N/A These are only found in retail packs.
OVERALL THOUGHTS:
Try it plain and simple.Its a fun product. Great design on the base cards. If you are a fan of retro appeal, inserts that you want to collect and autographs, then this is a product for you. The inserts are definitely worth the chase in here alone as you might be scrambling to put a set together. And its not too often you find a memorabilia-less hobby product that only has autographs in it. So you know the hits are worth it. I personally enjoy the Elusive Ink cards of players you might not see signing in every NBA product. Some of these players I grew up watching and haven't seen on cardboard in awhile so those are fun finds. And it brings back memories of the PAST when I watched a ton of basketball.
Another key thing to look at here is the price per box isn't bad with 3 autographs and there are some big hits in this product waiting to happen. You gotta go find em!
RATINGS:
Bloggers Note: Our ratings are based specifically on the blaster, box or packs we opened and do not express what the overall product could bring. Ratings based on a 1-5. 1 Being the lowest and 5 being the highest.
Packaging:
5
Base Design
:
5
Insert Design:
5
Memorablila/Autographs:
4
Blaster, Hobby Box, or Pack Value:
4