Here is our NEW segment on Sport Card Collectors. This segment is not about the players per say, its more about the cards and design. We will focus our efforts on bringing you brands you may have forgotten about over time. Sports for these products will include basketball, football and baseball products.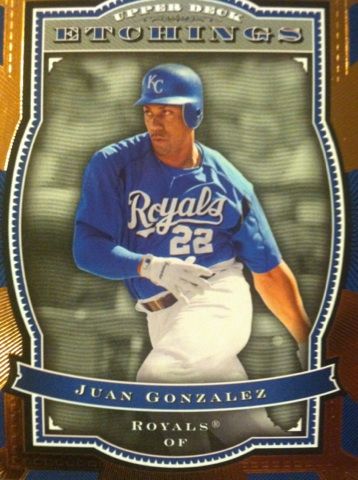 Forgotten is a baseball product that etched team logos into its bat pieces. Forgotten is a well designed product that should have stayed etched into your mind. Every box of Upper Deck 2004 Upper Deck Etchings Baseball had 12 packs per box with 5 cards per pack.
Each box contained on average 2 Rookies numbered to 2004, 3 Autographs with them being 1 rookie, 1 young star, and 1 star. Also it had 3 Game-Used Memorabilia Cards. Including like we mentioned above, bat pieces with a team logo etched into the bat piece. Was a very cool concept and design.
You ask what we mean by this..
At this time, can't find any pricing on boxes. But with 6 hits you have to assume its pushing over $100 even still now.
Let us know if you remember Upper Deck Etchings Baseball. And what your favorite part was!