First off, I would like to say thanks to the WONDERFUL people at Panini America for providing us with this box to review. Here are many places you can find Panini America:
official site
,
blog
,
Twitter
, and
Facebook
. If you don't follow them at all..you should! They talk to you on Twitter, have contests on their blog and Facebook and the site is also fun to visit!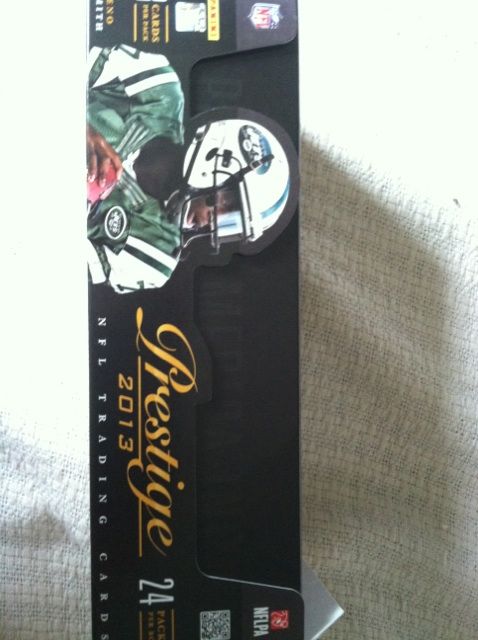 Box Break Down:
24 Packs Per Box, 8 Cards Per Pack
Four Autographed or Memorabilia Cards Per Box
Twenty-Four Rookie Cards Per Box
Three Parallels Per Box
Under $90 a box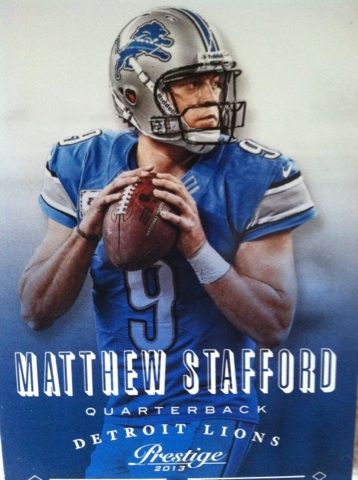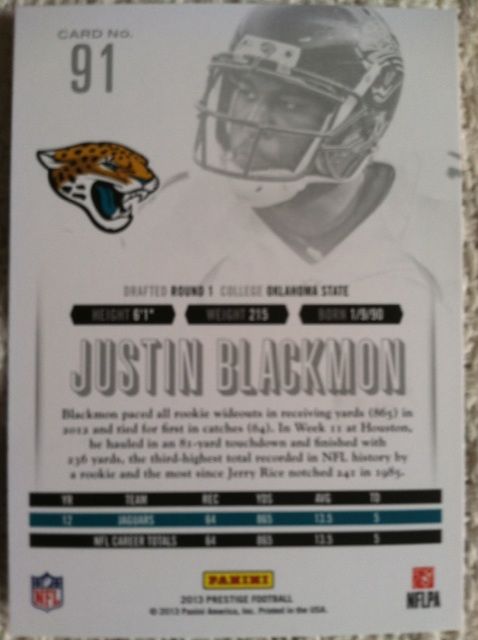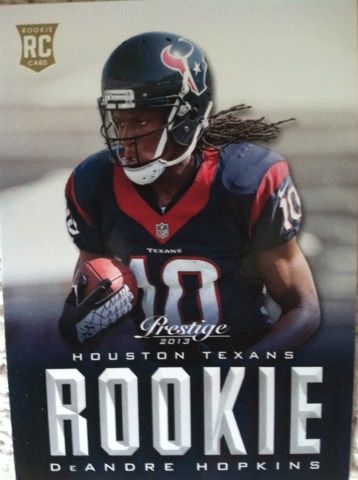 BASE CARDS: Usually the product that "kickoffs" the Panini NFL card season is the second release for Panini this year. Prestige base cards stuck to their roots with a blend of team color and white. I think this years design is much bolder than last years and really stands out. I also like the fact that they focused directly on the player instead of adding in too much background on these. With this kind of color and design its best to focus just on the players as they did here.

The card backs are also well done providing you with not only stats, but a small writeup of each player. The faded player in the background adds a nice touch as well.

The rookie cards that fall one per pack, also with Sp Variations (only about 6 this year compared to past years that had many), have pictures from their rookie premier shoot with the bold letters Rookie standing out as an attention grabber. Once again, its another fun feature I truly enjoy about Prestige that they separate designs from base and rookie.
We didn't land an Sp rookie variation in this box, but in another box break we did land one. You will have to wait for that break however to see it :)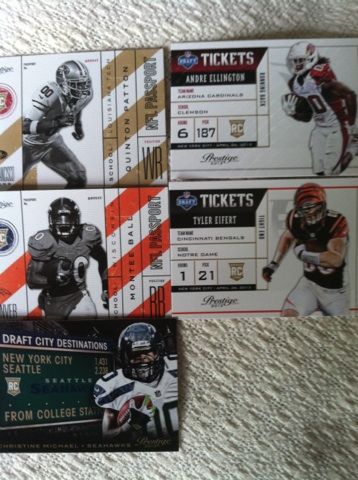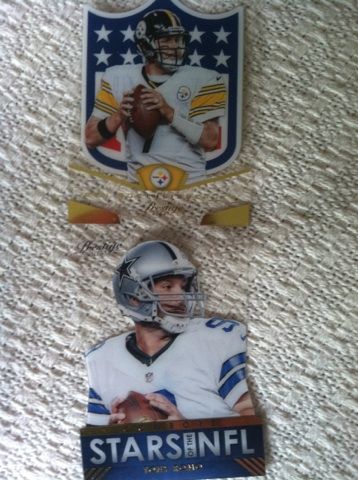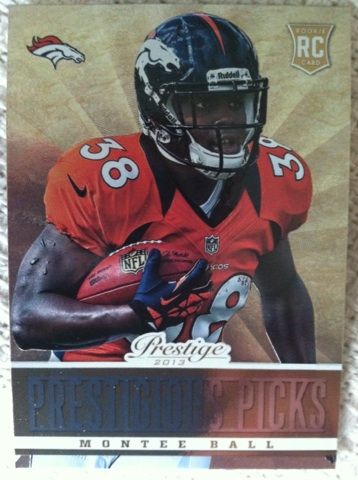 INSERTS: This years Prestige inserts are some of the best looking ever. They brought back the rainbow foil to the Extra Points parallels which is a huge upper compared to last years that seem to lack with just a small bottom foil color. The harder to get colored ones are numbered such as the Stevie Johnson that is a purple extra point that is limited to 100. Others such as blacks can be even tougher to find # to 10 (another thing you will see in our other box break of the product)
The rookie inserts are also very impressive with Draft Day Tickets (the Ellington is a parallel # to 100), NFL Passport and NFL Draft City Destinations (also available autographed see below). The designs are very much the same as last years, but that is not a complaint at all. I really dig what they are offering for the rookie inserts especially in terms of design. And even though this class was defensive and offensive line heavy, Panini seemed to have put mostly offensive weapons onto these cards which also helps in terms of box value.
Another positive about the inserts in Prestige is the acetate inserts of the veterans. Die Cut as well. These however are only found maybe a couple a box so tougher pulls than the rookie inserts that you are more likely to see. But who doesn't like a piece of acetate with a beautifully done design.
And then we can finally discuss my favorite of the group, though it was hard to choose, the Prestigous Picks. An insert that has always been a fan favorite in Prestige has a new take on it...micro etched technology! Something you usually only found in Totally Certified. I like that Panini changed things up a little and carried a technology from one brand into another. The micro etching really stands out with the gold color and color player photo as you can see above with the Montee Ball. This is something I would like to see a base set done of.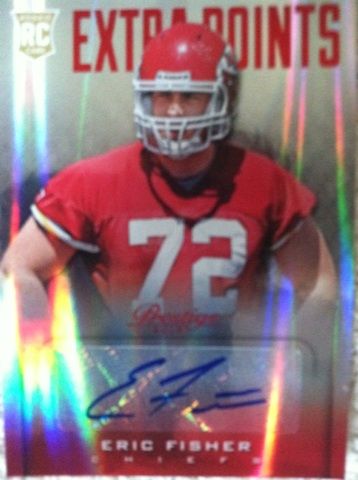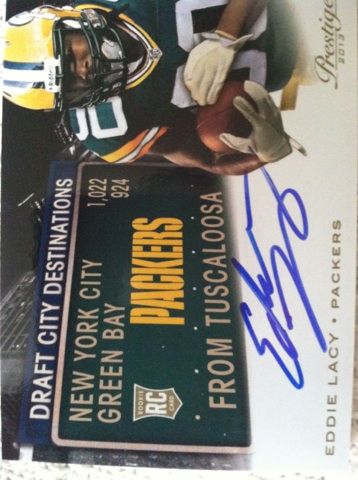 AUTOGRAPHS: Two autographs per box. One On Card. We lucked out and got highly touted Packers rookie runner in Eddie Lacy in that outstanding Draft City Destinations design. I like the fact that Panini used a landscape design for this as well.
There is also one Extra Points auto per box as well as we landed top pick in Eric Fisher. Though the design is nice, the disappointment here is that they are not numbered. At least the base ones and not the parallels. For me, I would have liked to seen it numbered to 299 or less.

From the breaks I have seen, it appears there is good mix of at least one "star rookie" auto in a box with at least one offensive lineman or defensive player in a box.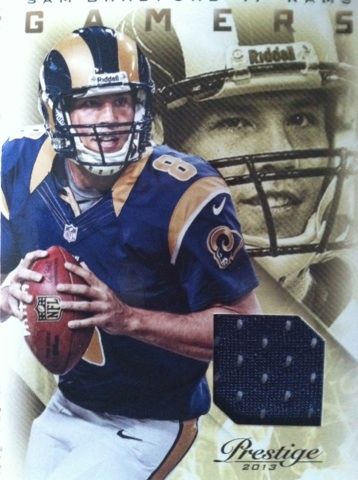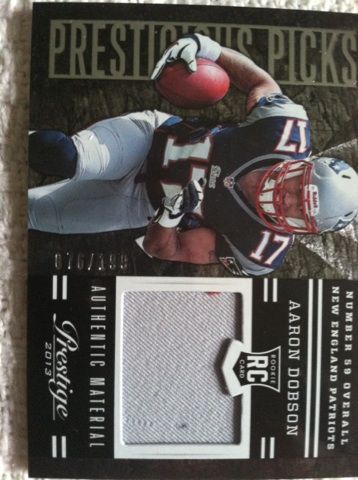 JERSEY/PATCH CARDS: Gamers is a nice looking jersey card set with faded player in the back and full color in the front. One of the better designed jersey cards out there. If you are going to pull a one color swatch, I would want a design like this to make it more collectible.
However, I was really stoked to see more micro etching as they carried it over to the Prestigous Picks jersey cards. These are numbered to 299 and more importantly look outstanding especially in person.
OVERALL THOUGHTS:
Panini kicked off with Score which rocked. And then they followed up with a solid release in Prestige that was muchly upgraded from last years in all aspects. The inserts are fun, the price is reasonable, and the hits are there waiting for you.
With 4 hits per box, loaded with inserts, rookie cards, possible low numbered parallels, and once again a decent price, Prestige is well worth a buy and you would regret not giving it a try.
RATINGS:
Bloggers Note: Our ratings are based specifically on the blaster, box or packs we opened and do not express what the overall product could bring. Ratings based on a 1-5. 1 Being the lowest and 5 being the highest.
Packaging:
5
Base Design
:
4
Insert Design:
5 maybe even a 6
Memorablila/Autographs:
5
Blaster, Hobby Box, or Pack Value:
4.5