We did a review earlier this year for a rack pack break of Upper Deck Football. This time we kick it into extra gear and review a hobby box.
This is a product I used to buy yearly when it was NFL licensed. You couldn't keep me away. Its a little bit of a tougher buy now with just an NCAA license. But there are a ton of die hard college football fans who eat up these types of products. And they should. Upper Deck has never changed. Just the licenses. Still quality in here.
What was my thoughts on this particular break though...read on!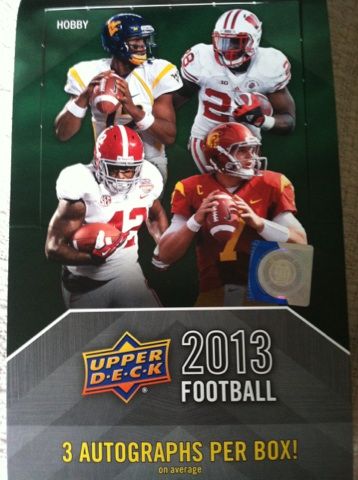 Box Break Down:
20 Packs Per Box, 6 Cards Per Pack
(3) Autographs Per Box!
(2) Ultimate Collection RC's # to 599 Per Box!
Find College Mascot Manufactured Patch Cards!
Find Namath and Sanders College Football Heroes!
$90 Per Box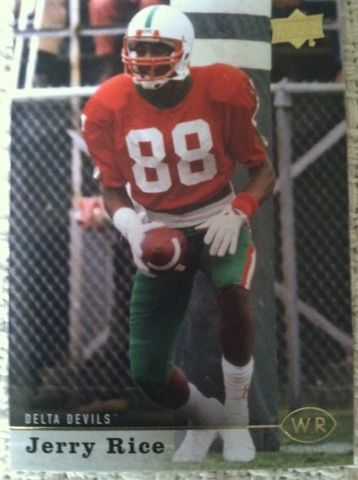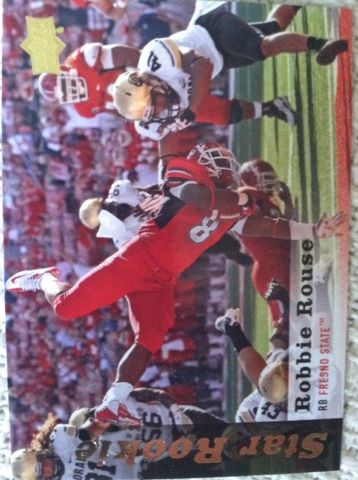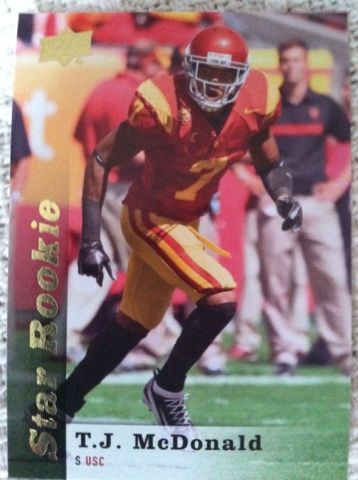 BASE CARDS:Upper Deck has always done a great job with their base cards. Little border, nice photography. I have always appreciated what they brought to a set. They display action photography like no other.

The vets in this set is small in only 50. Its the usual group of players Upper Deck is allowed to use in their sets since they have had the NCAA license. There are a ton of rookies however and short prints for both Hobby and Retail to find. We landed two Sp's in our hobby box.

One of the disappointing parts was the lack of big name rookies we found in this break. No Lacy, No Geno, best rookie we got was EJ Manuel. Rest were ones we hadn't heard much of. This may not be a bad thing as there are always those unknown rookies who rise, but a few more starts mixed in would have been nice.

Regular Cards-50
Star Rookies Cards-100
Star Rookies SP Cards -60
Star Rookies Rare Cards- 40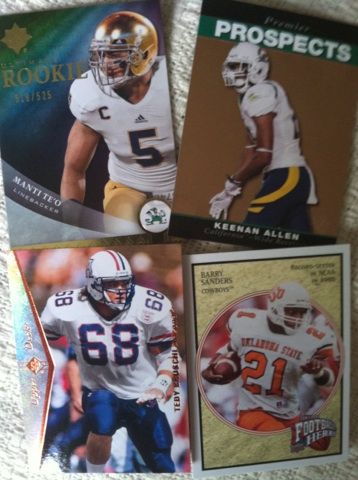 INSERTS: The inserts in this product brought me back a little. First off you get the following in a box:

2 Ultimate Collection Rookies
- Regular Card Parallel -none found
- Star Rookies Parallel- none found
- 1995 SP Football (1:6)
- 1995 SP Prospects (1:12)
- College Football Heroes - Joe Namath (1:10)
- College Football Heroes - Barry Sanders (1:10)

The Football Heroes and Sp football inserts brought me back to my early collecting days. They stuck to the same classic design which was great to see. The Ultimate Collection insert looks great as well. So in terms of design on the inserts here, good job.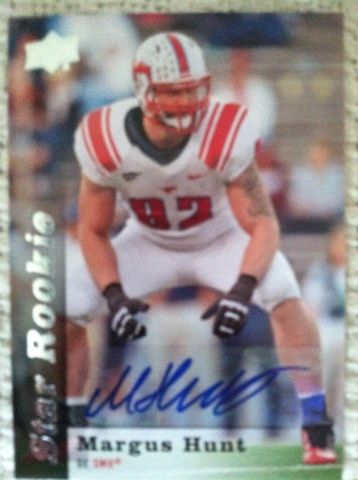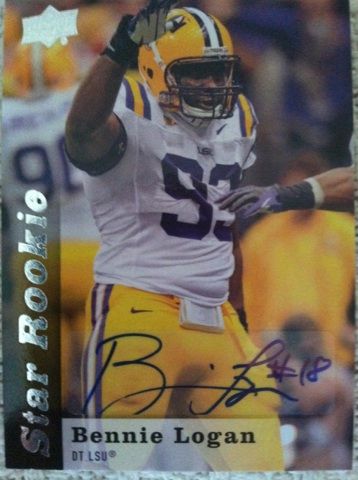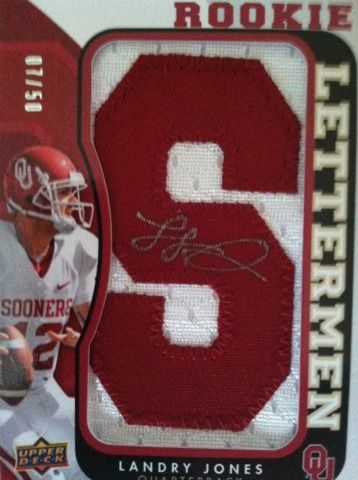 AUTOGRAPHS: Three autographs in every box. Two base autos of people we never heard of and then a sweet /50 Lettermen auto of Landry Jones. I know and I have said this before that a lot of people don't care for the Lettermen autos and would rather have the other autographs (though Upper Deck photography with an autograph isn't a bad thing), not me. These Letterman look outstanding. I even like how the card is displayed. The player off to the left. The word rookie and Lettermen was done with the right text font and size. The player name bold at the bottom. Just awesome.


JERSEY/PATCH CARDS: N/A


OVERALL THOUGHTS:
Well, great photography. Memory quality inserts. One nice looking auto. Upper Deck football feels like its still missing something other than an NFL license. I wished I had gotten better rookie cards. And maybe another named auto. I liked what Upper Deck did just didn't feel like I got the complete value of the box here. Maybe other breaks are better. I haven't seen a lot of breaks of this product to judge it as a whole. It does have hit potential, you just have to have the right box I think.
RATINGS:
Bloggers Note: Our ratings are based specifically on the blaster, box or packs we opened and do not express what the overall product could bring. Ratings based on a 1-5. 1 Being the lowest and 5 being the highest.
Packaging:
5
Base Design
:
5
Insert Design:
4
Memorablila/Autographs:
3.5
Blaster, Hobby Box, or Pack Value:
3