The glimmer and the shine of Bowman Platinum always grabs my attention and other collector's attentions as well. I like retail version of the product for 1, can't afford hobby right now and 2, it usually gives you your money back plus more and 3, you can sometimes hit an auto or auto/patch in a blaster box. It's not too often you can get a decent hit in a blaster product and this product is one where they odds are favorable.
The product is also rookie based with both prospects, rookie cards and inserts of them. Which is key an any product with the word Bowman.
I feel this blaster did just that.
Box Break Down:
8 Packs Per Box, 4 Cards Per Pack
$20 PER BLASTER BOX
Base Card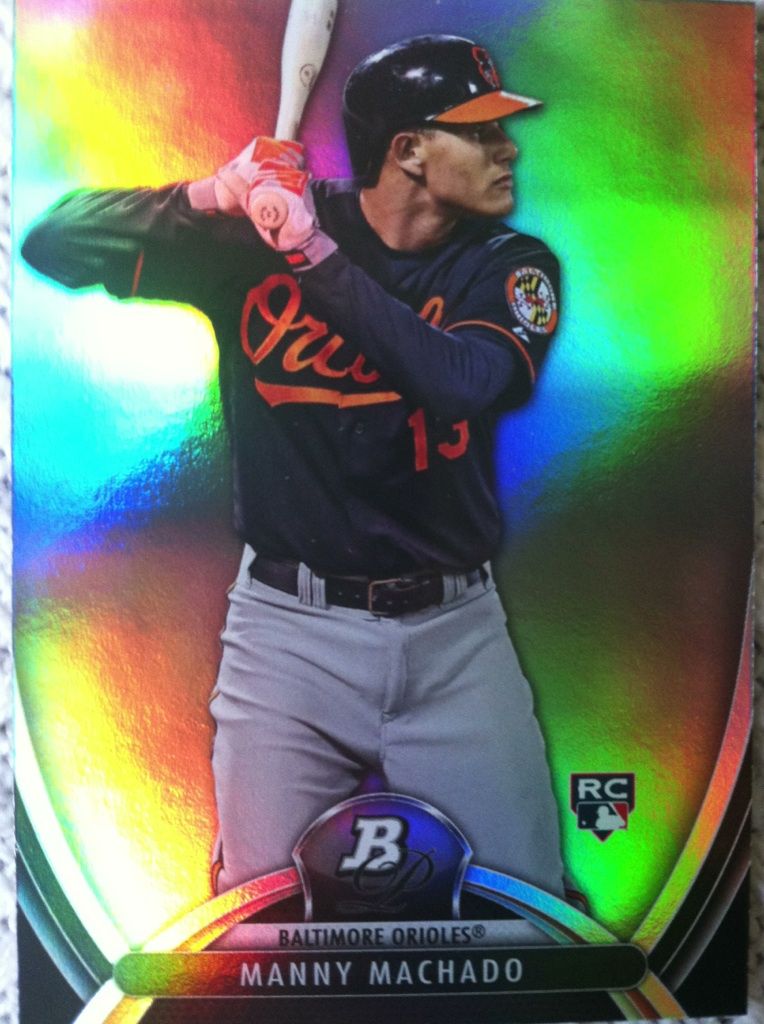 Base Rookie Card
Even though these aren't base cards, I call them that anyways
BASE CARDS: This is a product that to me doesn't need the action photography like others that I crave it from. The glimmer and shine of the base cards does enough to catch my attention. The rainbow appeal is very nice and a base set I would spend time putting together.

I really like the border on these unlike the types of border used in other Topps products. This one is very minimal. I wished Topps would use this type of border for their other products with the action photography. That would drastically change my opinion on some of their MLB line.

Base Set Breakdown:

100 Cards in the base set
100 Card Prospect "base set"
Gold 1:5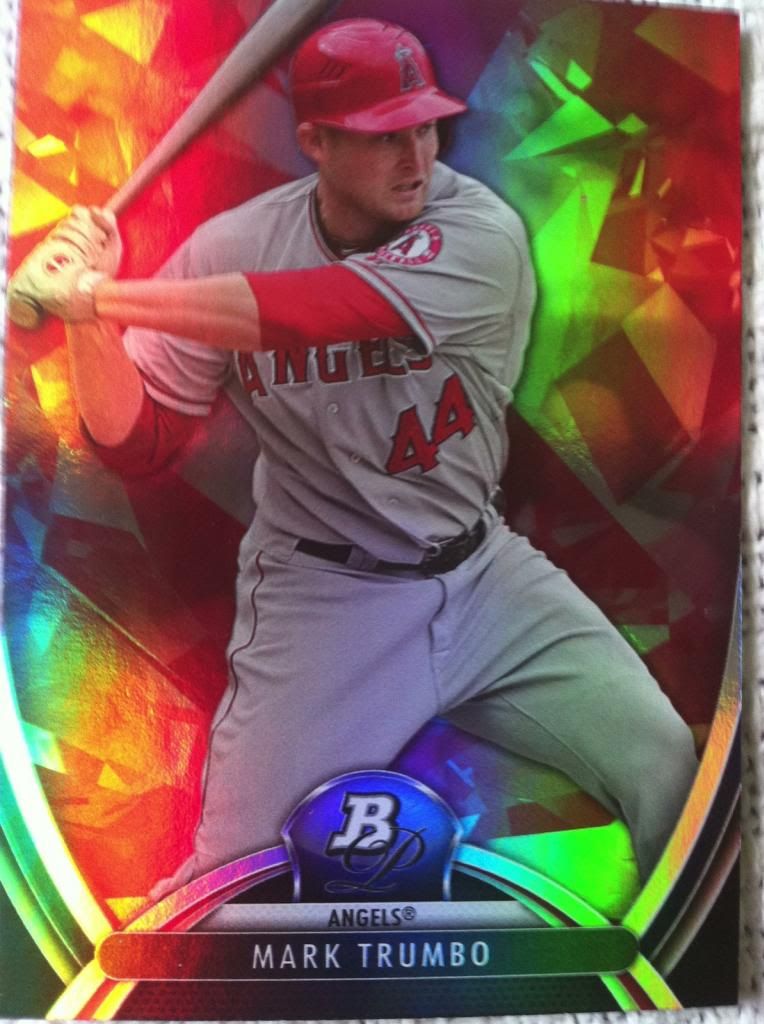 Ruby 1:20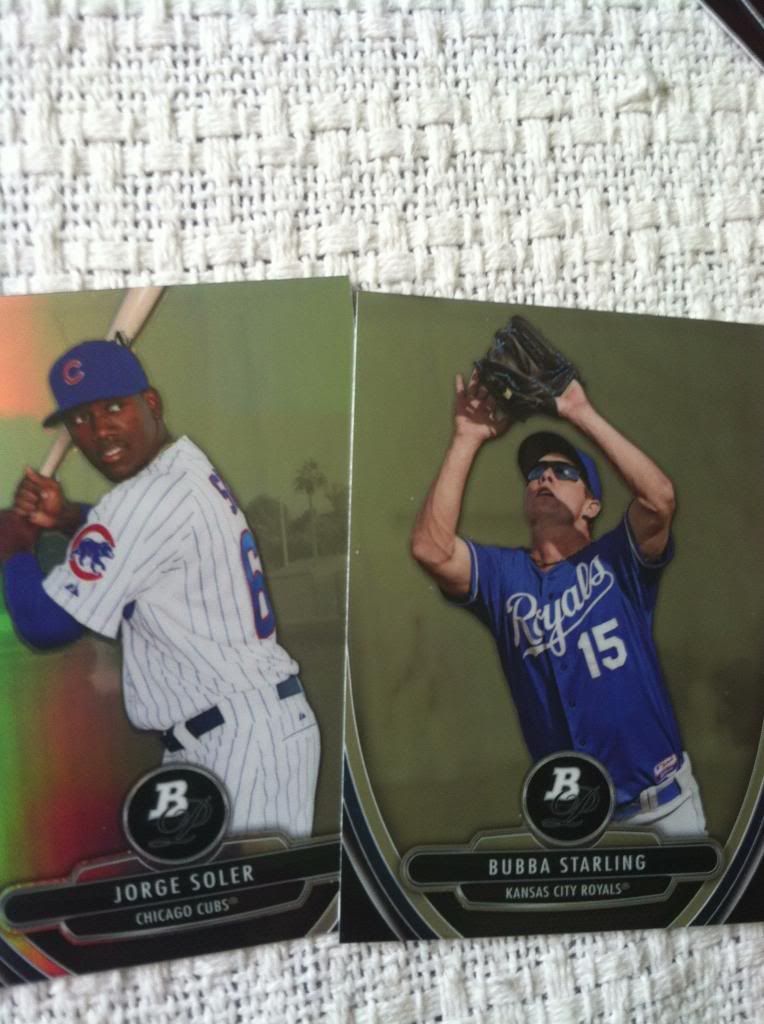 Prospect refractors 1:4
Top Prospects 1:5
Die-Cut Cutting Edge 1:10
Best Bowman Players Of All Time 1:20
INSERTS:The parallels are a thing of beauty just like the base cards as is rest of the inserts. And as you can tell by the odds for each one, we did pretty well with our blaster pulling both a 1:20 Ruby parallel and a Best Bowman Players Of All Time 1:20 insert in only a 8 pack box. Die Cuts are a nice touch as well.
AUTOGRAPHS:
NONE (Though pulling some from retail is never out of the question)
JERSEY/PATCH CARDS:
NONE
OVERALL THOUGHTS:
For $20, you will get your money back. You will also get joy in busting the product. I have seen many people hit autos in blaster boxes. Some were big hits. This and Topps Chrome are the only two retail products in blaster form that will provide a big Bam and will provide your moneys worth. As always, I will recommend this product and hope you get Puig from your box. That was our aim but we don't mind seeing Machado either. A nice rookie PC piece.
And with this product being rookie loaded, it's also a buy for future value as well.
RATINGS:
Bloggers Note: Our ratings are based specifically on the blaster, box or packs we opened and do not express what the overall product could bring. Ratings based on a 1-5. 1 Being the lowest and 5 being the highest.
Packaging:
4
Base Design
:
5
Insert Design:
5
Memorablila/Autographs:
N/A
Blaster, Hobby Box, or Pack Value:
5