First off, I would like to say thanks to the WONDERFUL people at Panini America for providing us with this box to review. Here are many places you can find Panini America:
official site
,
blog
,
Twitter
, and
Facebook
. If you don't follow them at all..you should! They talk to you on Twitter, have contests on their blog and Facebook and the site is also fun to visit!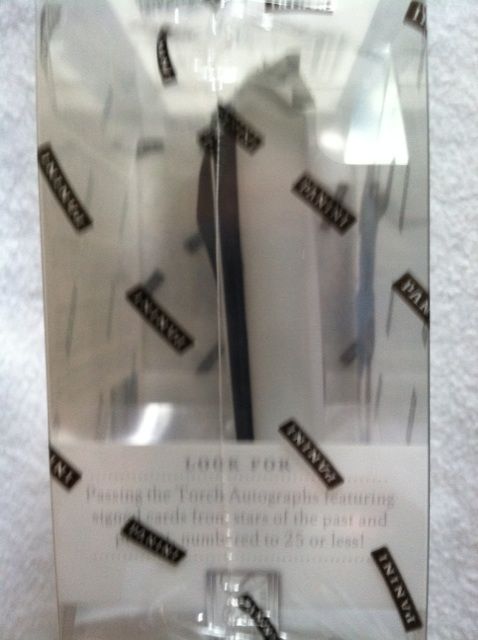 First off, let's just talk about the box it comes in. Clear plastic box surrounds a single pack that is in the middle. It sort of reminded me of a Disney movie. You know, where a glowing item with a special power would be enclosed inside of a see-thru box. THE POWER IS WITHIN! YOU MUST OPEN IT!
The other thing that came to mind is a corsage that is protected from the elements before being opened. Either way, I love how Panini did this. Really gives it a special high end feel.
Box Break Down:
1 Pack Per Box, 10 Cards Per Pack
Four Autographs and One Elite Glass Card Per Box
Look for Elite staples such as Passing the Torch
First Ever Elite Glass Card
Around $200 per box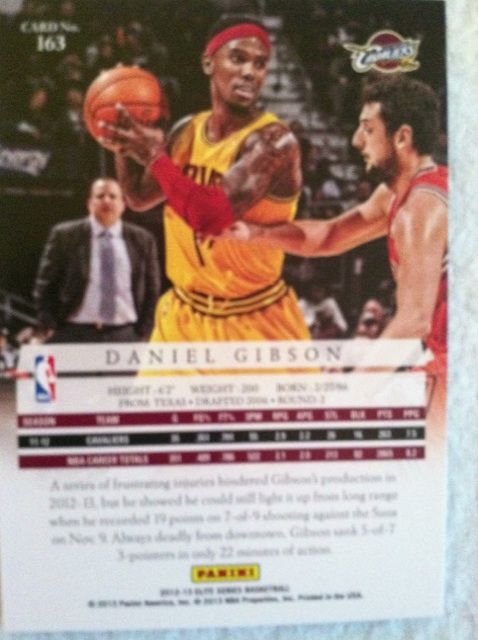 BASE CARDS: If you bought Elite before in the past, you would immediately associate this base card design with the Elite Series inserts that were included in those products. All of the base cards are numbered to 275 while the rookies are numbered to 249. You will get 4 of these cards in a break. And the first thing that jumps out at you other than the thickness of the base cards is the rainbow border. The design here is awesome to say the least.
INSERTS: We pulled one insert in our break of Gary Payton that is numbered to 99. The design has the feeling of 90's all over it. The spray paint appeal made us think back to Fresh Prince Of Bel Air. Once again, the use of a rainbow foil border stands out.
Among other inserts you can pull in the product, there is one that stands out and comes one per box in it's own team bag which you have to assume will keep it from being surface scratched. Elite Glass is well, almost like a sheet of glass. The card is made on very thick acetate, layered and almost has a 3-D appeal to it. I think most would call this Panini's version of the Shadowbox. These are very cool addition to a high end product and it will be interesting what they will go for on the market. It's something that I hope Panini carries over into other sports as well.
AUTOGRAPHS: I really like the autograph setup in this product. They took Elite staples and improved on them. And I like the fact we got variety in our box and dabbled into a few different autographs in the product. We pulled Aspirations, Inscriptions and a Court Kings white canvas auto as well and can't wait to see what that looks like in person and will definitely post it when that arrives.

We love the increase of acetate use by Panini and who doesn't, the only problem we see with acetate is that it's a concern for surface scratches. But as long as you put it somewhere protected immediately, there shouldn't be any problem.

Some highlights are:
- The Elite Series version of Rookie and Veteran/Retired Inscription cards printed on clear PETG card stock.
- Look for Elite staples such as Passing the Torch, Elite Series, Aspirations and Status Autographs.
- Rookie and Veteran/Retired Inscription Autographs and Aspiration and Status Autographs
- The return of Court Kings with a 100 player autograph checklist.
JERSEY/PATCH CARDS: N/A
OVERALL THOUGHTS:
Where has Panini been hiding this product??! This is a product of beauty and very fun to open. The price is a little steep for common collectors but those who like the high end products, I would say this is one of the best high end ones I have opened. With a nice vast of autographs ranging from rookies to veterans to retired legends there is a lot to offer in this product and out of a few breaks I have seen, they are packing a punch.