First off, I would like to say thanks to the WONDERFUL people at Panini America for providing us with this box to review. Here are many places you can find Panini America:
official site
,
blog
,
Twitter
, and
Facebook
. If you don't follow them at all..you should! They talk to you on Twitter, have contests on their blog and Facebook and the site is also fun to visit!
The box has a unique felt feel to it
Box Break Down:
1 Pack Per Box, 4 Cards Pack
Three Autographs and One Insert Per Box
Find Autographed Film Cards
Collect the 200-Card Autograph Checklist
Look for Die-Cut Signature Cards
Around $100 a box
BASE CARDS:N/A as every card in the box is an autograph or insert.
INSERTS: Every box promises an insert numbered to 25 or less. There are three different inserts to find. Chase Rookies, Chase Legends or Chase Stars would be the one insert in your box. I like how the design in terms of white card stock, darkened washed player in the background and full colored player in the front stays throughout the product. I am also a fan of low numbered inserts as well. Drives up their value especially only finding them one per box.
As for more info on the inserts, the Chase Rookies insert incorporates 15 of the best rookies from the 2011-12 and 2012-13 draft classes with 10 different photo variations of each player. Similarly, the Chase Stars insert also delivers multiple photo versions for each of the top NBA superstars on the checklist.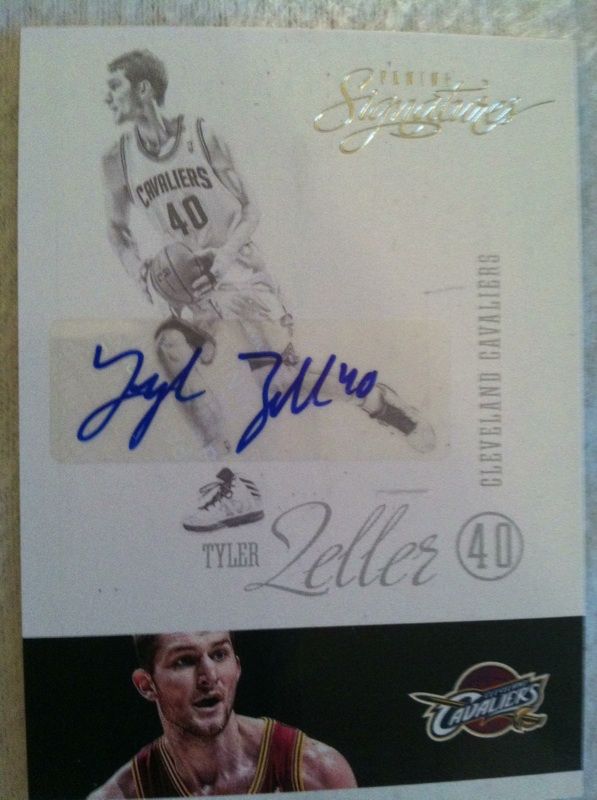 AUTOGRAPHS: I really like the improvements made on Signatures with every release. This product release seems to improve each time. The first release back in 2011, an NFL one, was lacking a lot. It had one hit per box and was all white background. Last years football release steadily improved with the addition of patch autographs and now with the first basketball release of it, it tops that with a blend of color splashed on the white card stock.

In our box we beat the odds and had an extra card/extra hit that turned out to be a well done designed Signatures film card that incorporates a photographic film slide.These are pretty stunning especially in person.
Other info on the autograph cards is both the Signatures and Signatures Film inserts have a deep 200-card autographed checklist, while Die-Cut Signatures includes 150 of the game's top current and retired players.
JERSEY/PATCH CARDS: N/A (though I think it would be a great addition to the product like it was with 2012 football)
OVERALL THOUGHTS:
For around $100, you get three autographs. A Kobe Bryant pack, and an insert numbered to 25 or less. In our box, we got 4 hits. Three of the hits were numbered 49 or less including the Jeff Green 8/10. I do think having a big autograph checklist hurts this product a little. It leaves way to pull more of the lesser known rookies and not many of the stars as shown by this break. But, with low numbered autographs like the ones we pulled, it helps bring back some value. And some of these rookies you just never know who will shine next. Though at the present time they don't show much value.
But overall, nice clean design and appeal to the cards. And plenty of low numbered hits to be found. This product may not be for everyone who doesn't like to roll the dice once in awhile being that there is only 4 cards and all 4 could be nobodies, but on the other hand there could be a big hit waiting to happen. I would say if you like to roll the dice, it's worth the roll if not just for design alone.
RATINGS:
Bloggers Note: Our ratings are based specifically on the blaster, box or packs we opened and do not express what the overall product could bring. Ratings based on a 1-5. 1 Being the lowest and 5 being the highest.
Packaging:
5
Base Design
:
4
Insert Design:
4
Memorablila/Autographs Design:
4
Blaster, Hobby Box, or Pack Value:
3