With a lack of funds for a jumbo box and the fact a hobby box only has 1 hit in it, I always give retail Topps a go. As with every year, I am mainly searching for rookie cards in a product like this. The exclusive commemorative patches are just bonuses.
We did pretty well in this break and for $20 felt like it was the worth the buy. Read on to see why.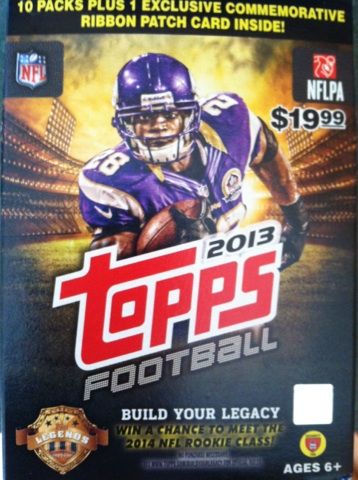 Box Break Down:
10 Packs Per Box
$20 a Box
1 Commemorative Ribbon Per Box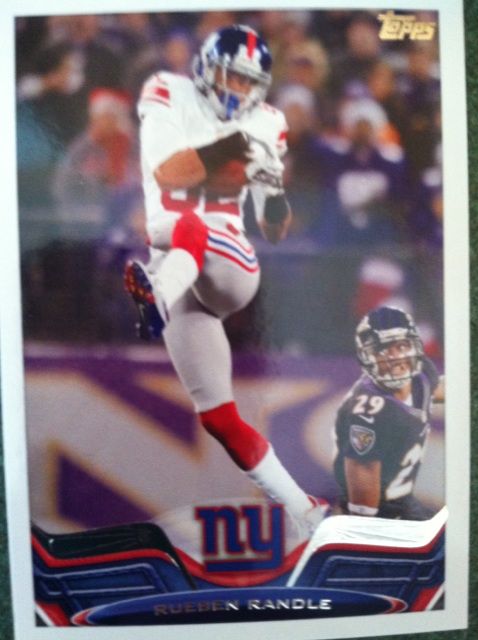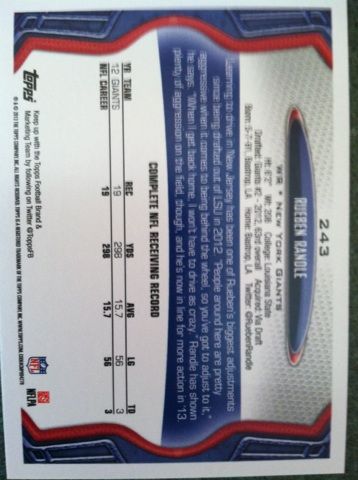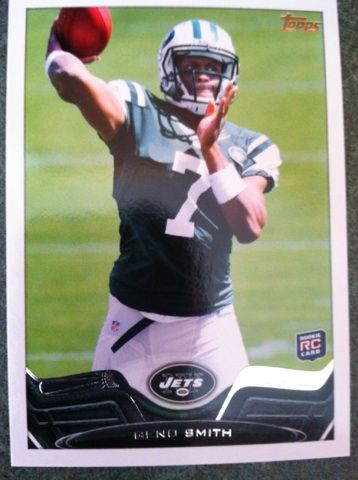 BASE CARDS: Topps most of the time struggles with action photography. But this years flagship set is some of the best photography we have seen from Topps and may also have reminded us of what Upper Deck used to bring to NFL cards. All of the rookie photo's are from the Rookie Premier so a lot of them have the players on the field. Rookies fall about one to two per pack.
The base cards also have the trademark white border which isn't quite as wide as we have seen it some years. The bottom of the card design with team logo and player name looks great. One of the better designed Topps base cards in awhile.
And as with all Topps flagship products there is the Sp base and rookie card factor as well with the different photography.
INSERTS:
In recent years Topps loaded up their base flagship products with inserts. This year it was nice not to find 3 inserts per pack. Most of our packs in the blaster only had 1. A few had two. So overall this blaster only had about 15 inserts. Not bad. The designs were nicely done as well and we were glad to see 1,000 Yard club make its return. Mini's also make another return in this years product.
And there are a good amount of parallels to find as well. We only landed one in this blaster in the Military one above.
Here are a list of the inserts:
- Gridiron Legends
- Legends in the Making
- Future Legends
- 1,000-Yard Club
- 4,000-Yard Club
- 1959 Topps Minis
And here is a list of parallels to find:
- Gold-Bordered Parallel Seq #'d to 2013.
- BCA-Bordered Parallel Seq #'d to 399.
- Military-Bordered Parallel Seq #'d to 399.
- Black-Bordered Parallel Seq #'d to 58. HOBBY ONLY
- Platinum Foil Parallel Seq #'d 1/1.
- Base Card Printing Plates #'d 1/1 HOBBY ONLY
AUTOGRAPHS: N/A unless you are very lucky.
JERSEY/PATCH CARDS:With every Topps NFL blaster release comes with a commemorative patch. Our patch was actually a bonus surprise as it was the military parallel. Most of the patches you find will be pink Breast Cancer awareness ones. We lucked out and pulled this paralleled one. We don't have much in terms of info on these. We tried to contact Topps football to find odds but never got an answer (are we at all surprised by this, no). If you have some info on these, please feel free to comment with it :)

OVERALL THOUGHTS:
With 80 cards total, 1 commemorative patch per blaster, one rookie and about one to two inserts per pack its a reasonable price at $20. But the better retail buy to us for Topps football 2013, not that this one is bad, is the Blister pack. It has one rookie oversized jersey card per blister at $15. It's also loaded with inserts and rookies as well. And the Sp parallels fall 1:35 packs. W also believe there is 72 cards in there as well. The only un-fun part of those is it's only one big thick pack.