We recently posted about a Yard Sale we went to and picked up a bunch of sports cards at (mostly baseball). We thought it would be fun to take you on the journey with us to discover what is inside of every box, every single we got picking out the best ones along the way to show. We hope you enjoy the trip and comments are always welcomed.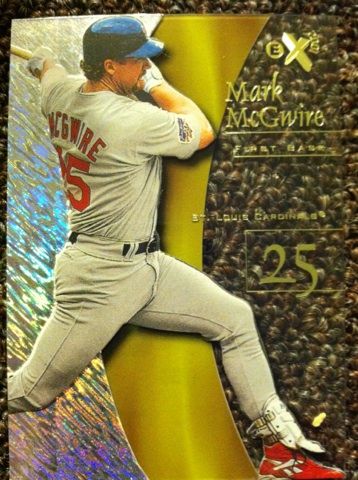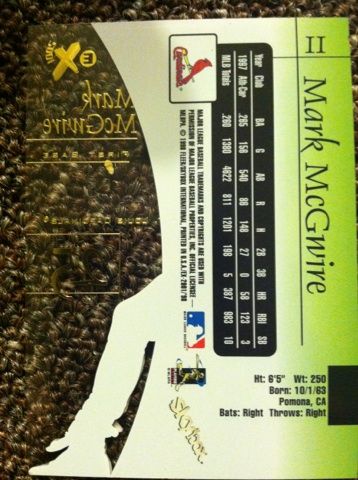 Alright...stop drooling on your keyboard. This product was so stunning to me. And yes, that's my opinion you may not feel the same but these were so stunning and so innovative for the 90's. The use of acetate and thick silver rainbow "sprinkle" board made these cards and player jump out at you in a 3-D approach. As we mentioned in our last post about Ex2000, the Ex2001 edition was much more drool worthy.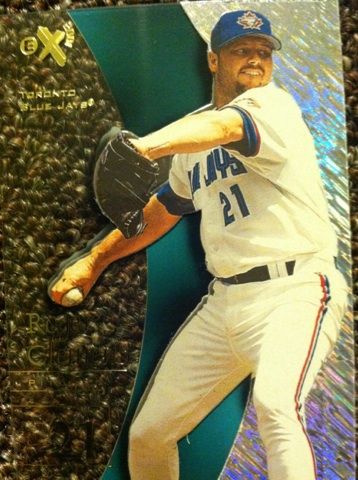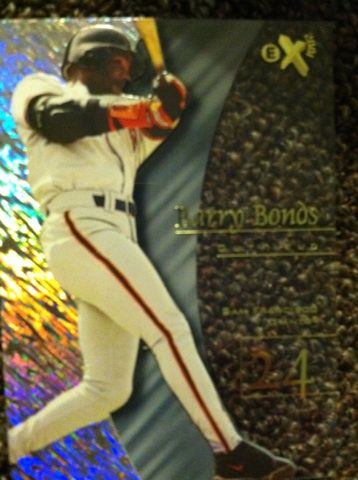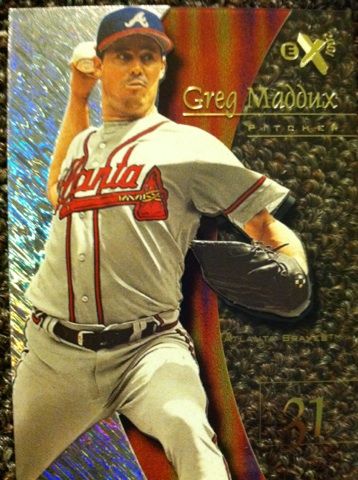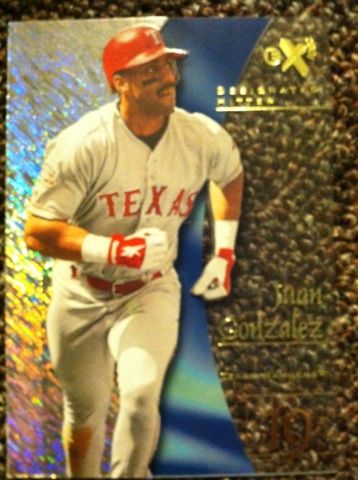 Ex2001 baseball design was also used for football and basketball and was something else I collected. I had to have all sports for both years. At that time, this was a high end product so I couldn't buy too much at a time .However, I truly wished I had kept what I had.
Ex2001 baseball was produced in 1998. Which this years product included autographs and memorabilia pieces as the start of the overuse of jersey and autograph cards era boomed. I think the product was great without it. But hey, can't stop a revolution.
Box Breakdown:
24 packs per box, 5 cards per pack (much more than the previous years that only included 2 cards per pack)Parallel sets:
Essential Credentials Now (Veterans numbered to 299)
Essential Credentials Future (Rookies numbered to 29)
30 Rookies (10 numbered to 2999, 10 numbered to 2499, 10 numbered to 1999 - over 10,000 will be Autographed)
Wall of Fame 1:24
Behind the Numbers 1:33 (Game Worn Jersey cards, some Autographed)
Base Inks (Autographed Derek Jeter World Series Game Used Base cards)
Upon our digging, other than finding roughly 35 base cards, we found these inserts buried within. The best of the group being Livan Hernandez. This set wasn't quite put together like the Ex2000's we found, but still will be something we treasure.
And speaking of treasures, that's what you would call some of their inserts now-a-days. Pulling the Essential Credentials Now or the Essential Credentials Future may not have seen like much then, but they are now HOT inserts to have especially for basketball. I am shaking my head as I type this knowing what I may have lost.
Let us know your thoughts on this design and find. As always we love to hear from you guys!