Upper Deck's most popular brand (least I think it is) packs a punch every year and has collectors running out to get it. Though it may not be the same product that came out a few years ago when Upper Deck had an NBA license for it, the product still looks great and can still produce those one of a kind hits.
Box Break Down:
24 Packs Per Box, 5 Cards Per Pack
3 Autographs or Memorabilia Cards Per Box!
Find Auto's from Jordan, LeBron, Magic, Bird!
Look for rare Final Floor Signature Cards
$110 a Box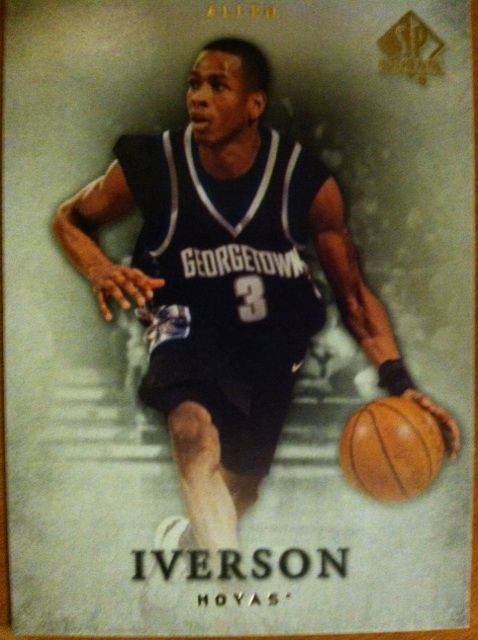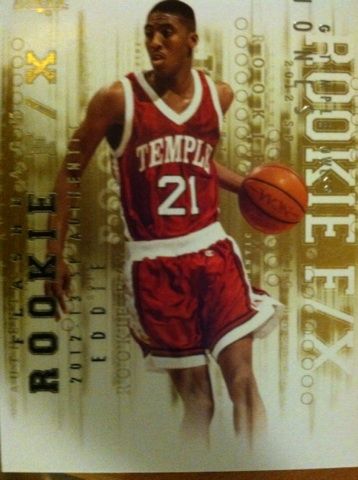 BASE CARDS: Sp Authentic stays to its core, white/grayish background base card with player the main focus. I am usually not one for non action photos for products, but this is Sp Authentic, this is an exception. The thing I don't like about the base card is the players name on top of the head. I would have either just left the last name the way it is or have put the first name on top of it. And its very small. Other than that, glad Sp Authentic stays with its success with the base cards.
The subset 1:4 odds of pulling is the Flashback Rookie FX. I like the design because it reminds me of past ones, but what I don't like is the non numbering on them. I think the chase would be more fun if they were numbered like classic Sp Authentic releases.
You do however, get two complete base sets in a box. At least we did. Only 4 triples.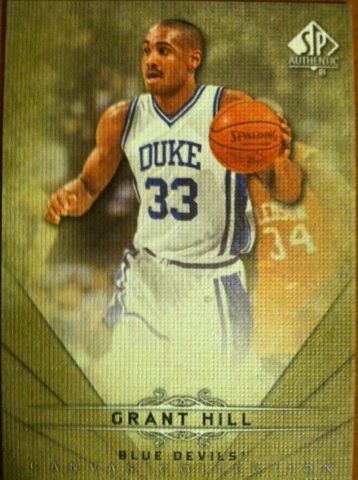 INSERTS: If you haven't tried this product, the Canvas cards have got to be some of the coolest inserts out on the market. However, they are the only ones in this product. Thats a tough sell for me. I wished they did what they did last year and include the hologram inserts. They include the Rookie FX Flashback and there are canvas parallels but doesn't seem like enough to me.

The canvas card above is a gold parallel.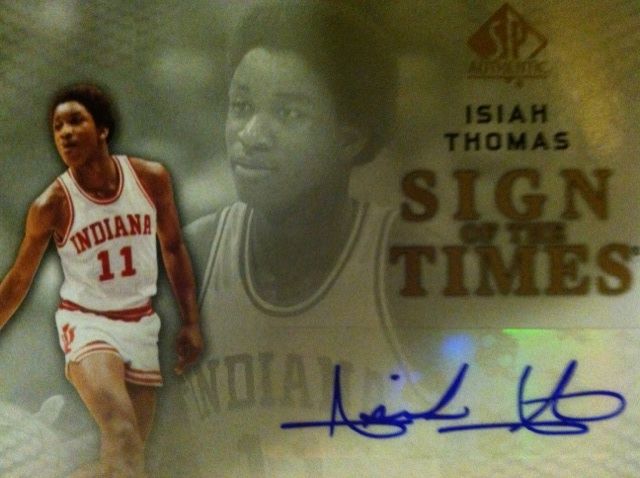 AUTOGRAPHS: There seems to be a color scheme in this product that matches the base cards. I do like the Sign Of The Times done with a darkened background and a colorful version of the player coming out at you. Pulled a no namer for a base auto.
However this product has a great autograph checklist as you can look for Autographs of Michael Jordan, LeBron James, Larry Bird, Magic Johnson, Bill Russell, Julius Irving, Allen Iverson, Reggie Miller, Karl Malone, Grant Hill, or Chris Paul!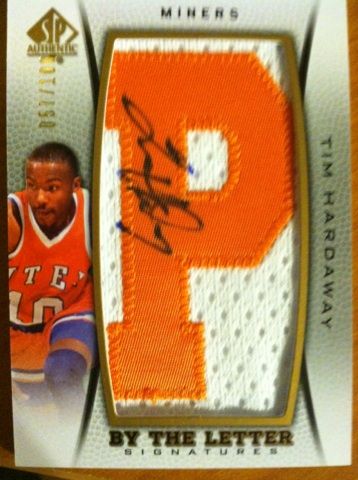 JERSEY/PATCH CARDS: You can land a Jordan Brand Classic Jersey card or pull a By The Letter Signature like we did. I don't care what people say about these, I really like the manufactured letter patch autos. To me, this card was the most exciting hit of the box and stood out in terms of color and design above the rest.
OVERALL THOUGHTS:
Sp Authentic is worth a try. Hopefully your box turns out the big auto hits with three per box its worth a shot. Hopefully you get that big hit or name auto.There are some nooks that I hope UD improves on next year like adding more inserts and maybe numbering to the subsets. Other than that, another solid Upper Deck Sp Authentic product.
Other info:
Memorabilia and Insert Cards:
Jordan Brand Classic Jersey
-Canvas Collection (1:8)
Canvas Collection Gold Parallel (1:72)
Base Set:
Regular Cards - 50 cards
2000-01 SP Flashback Rookie F/X - 50 cards (1:4)
RATINGS:
Bloggers Note: Our ratings are based specifically on the blaster, box or packs we opened and do not express what the overall product could bring. Ratings based on a 1-5. 1 Being the lowest and 5 being the highest.
Packaging:
5
Base Design
:
3
Insert Design:
4
Memorablila/Autographs:
4
Blaster, Hobby Box, or Pack Value:
3.5