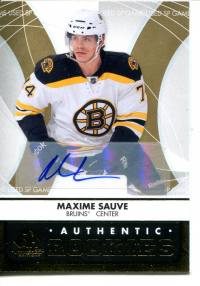 2012-13 SP Game Used Gold Autographs #103 Maxime Sauve
If you would like to add this to your collection follow the link!
http://bit.ly/19YPfCV
Thanks goes out to Jammin JDcards for sharing this card with us and you guys. Give Jammin JDcards a follow on Twitter, Find em on Facebook to talk sports, cards (you can also purchase many cards from him as well as he pretty much as everything under the sun) and for contests.