This is the box that we won from Topps. Not only is it one of my personal favorites...I know I seem to use that term a lot..but its really truly used here. Just such a great product and 2012 may be the best ever!!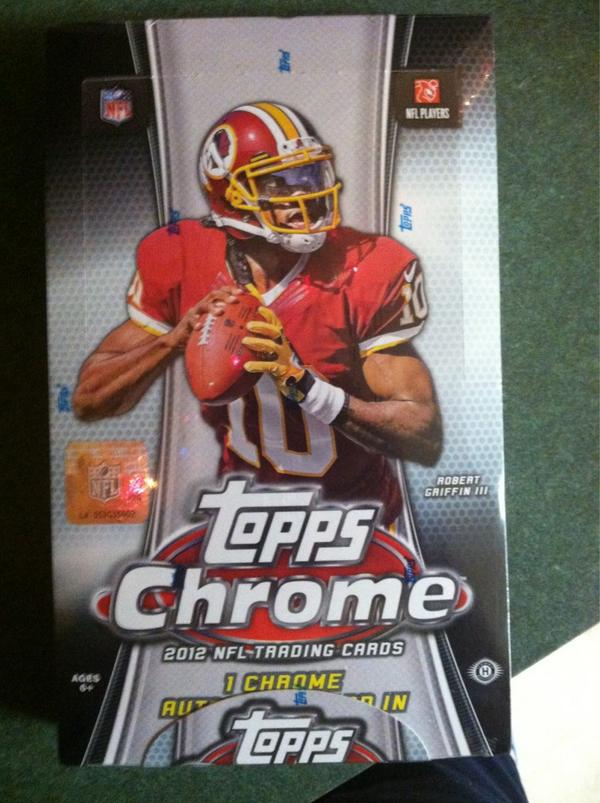 Hobby Box design
Box Breakdown:
24 Packs Per Box, 4 Cards Per Pack
Look for (1) Autograph Card Per Box!
Around $105 a Hobby box but watch for that number to go up as the popularity does!
BASE CARDS:
What can I say..I love em! Anything with a chrome finish..wow. You would think with my love of chrome I would love cars as well..but to be honest I can't even do an oil change ;) This is something I would put a base set together of. The rookie cards are my most sought after and my favorite. Our box proved to be very rookieful. On average we believe you are supposed to get one rookie per pack. We got over 35 rookies in this box! All of the great ones except Luck and Richardson. It would take a lot of boxes to get a base set. You don't get many base cards, though no duplicates, you still don't get enough with all of the parallels and inserts you get in a box.
1:12 ODDS
1:24 ODDS
1:6 ODDS
1:3 ODDS REGULAR REFRACTOR
1:24 ODDS PRISM REFRACTOR
1:52 ODDS SEPIA TONED REFRACTOR
1:63 ODDS BLUE REFRACTOR
1:25 ODDS CAMO REFRACTOR
1:24 ODDS
INSERTS:
Loaded with inserts and tons of refractors to choose from this product has a lot to chase. And with all of them having parallels..you can put together many different variation sets. Fun chase to say the least. And they look real nice!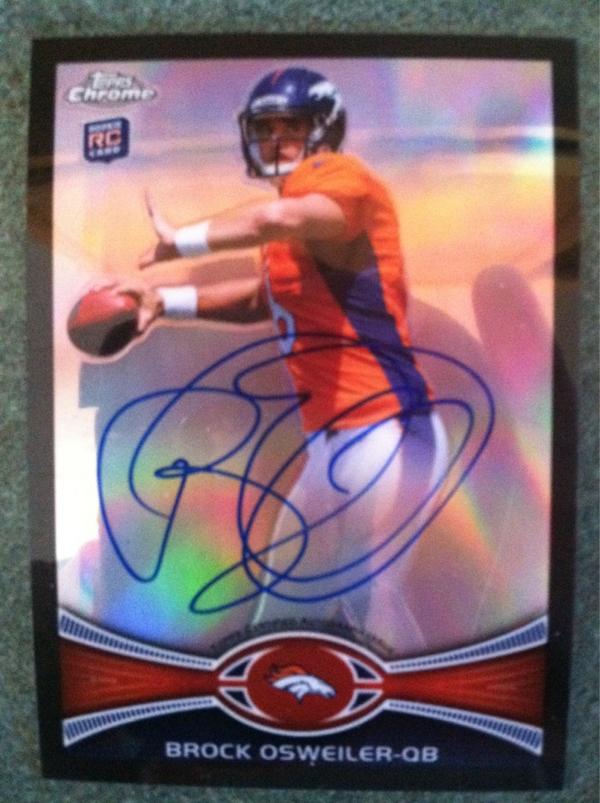 1:2,077 ODDS
AUTOGRAPH CARDS:
Only one hit per box..and this was it. Though not the best player..gotta play behind Peyton Manning for the next 5 years before even getting a shot..this was a tough low numbered pull # to 25. These usually do well on the market in terms of sales.
OVERALL THOUGHTS:
Go get some! From the base cards, to inserts, to refractors and the fact its loaded with rookies. Whether you buy a retail box (one jersey card on average) or a hobby box..value is here. You will always most of the time get a lot more than you spent on the product which is why I believe year in and year out Chrome is so popular. If my rating scale could be fixed..I would give it all 6's
RATINGS:
Bloggers Note: Our ratings are based specifically on the blaster, box or packs we opened and do not express what the overall product could bring. Ratings based on a 1-5. 1 Being the lowest and 5 being the highest.
Packaging:
5
Base Design
:
5
Insert Design:
5
Memorablila/Autographs:
5
Blaster, Hobby Box, or Pack Value:
5