Totally dug this product. If you are a NASCAR fan you have got to give this a go. 'Even if you know nothing about NASCAR give it a try. And its like opening up a Christmas present. You unwrap the first layer. Open the box. Then you have got to open the team bag to get to the contents. You never know what can be hidden within!!
Here are our thoughts: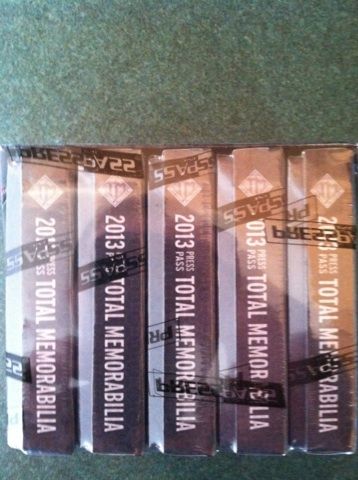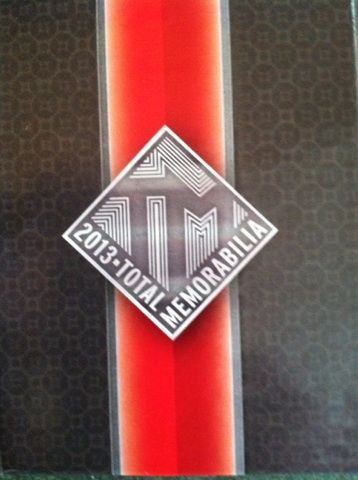 Box Break Down:
- Five cards
- One Numbered Parallel
- One Memory Lane Insert
- One Smooth Operators Insert
- One Authentic Race-Used Memorabilia, Rising Stars Autograph, or Signature Collection Autographed Memorabilia Book Card
-$100 a box
-
5 Packs Per Box, 9 Cards Per Pack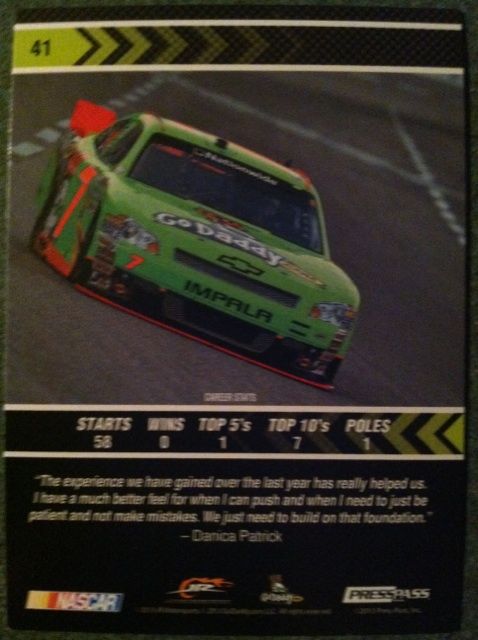 BASE CARDS:The base cards have a high end feel to them. I like the design as its action photography and the rookies in the set (Rising Stars) are in a subset form and do not match the rest of the base design which is a great thing. The fact that they are appealing as well helps with the card being outlined in silver edges and writing of Rising Stars in Silver staring out at you from the cardboard.

INSERTS: There are parallels, one per pack, Davey Allison remembrance cards, one per pack, and two other nice looking inserts in Memory Lane (childhood picture) and Smooth Operator very shiny. Overall, Press Pass did a great job with the inserts in this product.
AUTOGRAPHS: I really dig this card. They took the Rising Stars (made it gold instead of silver), embedded an auto in it. The only thing I think this card could use help on was where the authentication sticker was placed. They put it over the auto. I think something like that should have been put on the back of the card. Maybe even behind the autograph. And the fact that it doesn't cover the whole box is kind of distracting as well. But overall, a nice gold design and a very thick card.
JERSEY/PATCH CARDS:
NASCAR and Press Pass put together probably the best memorabilia cards on the market. Its not just a fire suit anymore. They used gloves (which you can see a stain on), sheet metal, shoe, its amazing! These cards are like twice the thickness of a filler card. The design is excellent.Very very impressed!
OVERALL THOUGHTS:
If this product was just based on look alone, I would recommend you go buy it(not that I wouldn't anyway. The memorabilia swatches that you can tell were used in races is as authentic and cool as it gets). But its based on value per box for most. The price and what you pull in this box was a little iffy. Don't know if full value was returned or not with the drivers we got. It could be close however.. But some boxes we have seen packed a big punch. Booklet cards can be found in this product and they are too a thing of beauty. Most of the breaks we have seen were mostly memorabilia laden and no autos. That must be hence the name. I still think there is value to be found within boxes of this product. And if you can buy it by pack, try that first. You just never know...
RATINGS:
Bloggers Note: Our ratings are based specifically on the blaster, box or packs we opened and do not express what the overall product could bring. Ratings based on a 1-5. 1 Being the lowest and 5 being the highest.
Packaging:
5
Base Design
:
5
Insert Design:
4
Memorablila/Autographs:
5
Blaster, Hobby Box, or Pack Value:
3.5