Soccer fans will finally get their first taste of Spectra this year with the 2016 release. The product known for it's shiny-goodness finally turns over to the other "football".
However, it comes with a very hefty price tag.
Read on to see my thoughts on the product.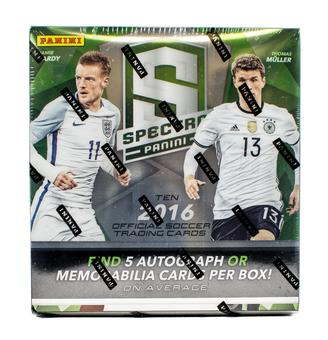 In every box of 2016 Spectra Soccer, there are no packs. All of the cards are put into a small box for you to open. You will find 10 cards with half of those being hits and a couple others being parallels. The boxes,well I didn't know this til I did my research on it run for $320. Yes, you read that right. I would have worn rubber gloves had I known. By far the most expensive box I have ever opened.
The base cards are simply beautiful. Chrome refractor appeal. At least a 72 pt thickness on these and all cards. The base set is also 100 cards deep so it would be a huge challenge to finish.
The parallels are pretty stunning as well. Coming in with colors of Neon Blue #/75, Pink #/25, Orange #/10, and Gold 1/1.
There are also stunning die cut parallels. They have parallels as well of Red #/65, Purple #/35, Green #/5, and Black 1/1.
Now time for the hits!
Here is the Swatches. Nice looking cards and they have parallels of Neon Blue #/75 or #/35, Pink #/25 or #/15, Orange #/10 and Gold 1/1.
Next is International Fabrics. Mine is a pretty sweet looking parallel. The parallels range of Neon Blue #/75 or less, Pink #/25, Orange #/10, and Gold 1/1.
Autographs look just as good as the memorabilia does on this type of design. These as well have parallels of Red #/65 or less, Pink #/25 or #/15, Orange #/10, Gold 1/1.
Both of my autos were base ones. But you can find soccer stars from the past, present and future and you can look for new signers that include Anthony Martial, Lukasz Fabianski, Patrice Evra, Neymar Jr. and more
This is simply the Signatures Set. These as well have parallels of Red #/65 , Pink #/25, Orange #/10, Gold 1/1.
Other hits not found in my box include SUPERSTAR JERSEY AUTOGRAPHS, YOUNG STARS JERSEY AUTOGRAPHS GOLD and ILLUSTRIOUS LEGENDS. You can look for autographs from legends of the game like Pele and Diego Maradona, current superstars Cristiano Ronaldo and Lionel Messi, and future stars Anthony Martial and Alvaro Morata.
Overall, Panini has a solid following for their soccer products and if you are lucky enough to pull one of the big name autographs, you will be as the saying goes "sitting pretty". But, if your box fails as from my research mine did, you might be saying a few words your kids might now want to hear.
Any high end product is a risk. But, one for $300+ plus is a bigger one. Personally, I would never spend that much on a box no matter the sport or brand. I prefer picking up 6 $50 boxes if I was going to spend that kinda money. Less risk and more hits. But, that's just the type of collector I am.
But, I will say, for a very high end product Panini did a great job with the product appeal and they do have a solid list of signers. For the cost however, my expectation was higher. I would expect at least a 1/1 per box in order to guarantee some kind of value.
I hate being brutally honest as I don't wanna scare you away if you are a big time soccer collector as the product looks great and as big potential hits, but I want to say proceed with caution.
By the way, make sure you thank
Panini America
for this review box and for the future giveaway. Check out their
site
for products like this one and others. Also give an extra thanks to Tracy Hackler and give him a Twitter follow too! Tell him Sport Card Collectors sent ya!
Stay tuned for some card giveaways from this product!