This break is from the box of Finest Football we won from Topps Football on Twitter. It's a product that is fun, though not nearly as much fun as Chrome to bust open. You never know what can pop up. Sadly, nothing to exciting in our box. But onto the review!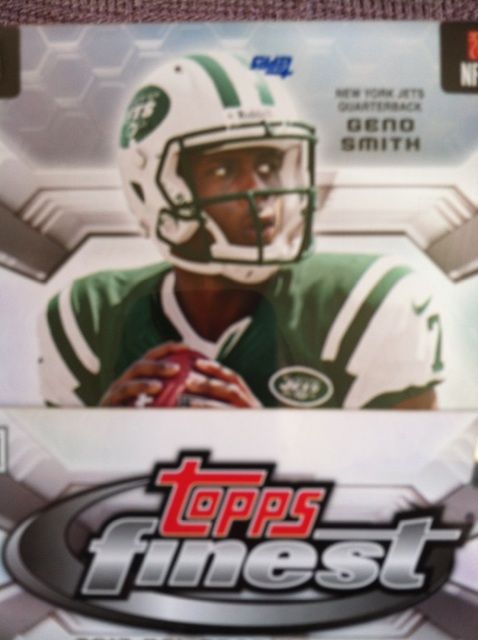 Since Topps was tricky in hiding cards in the Ginter covers I wasn't taking this box lightly..I ripped a box to look for hidden cards...none were found.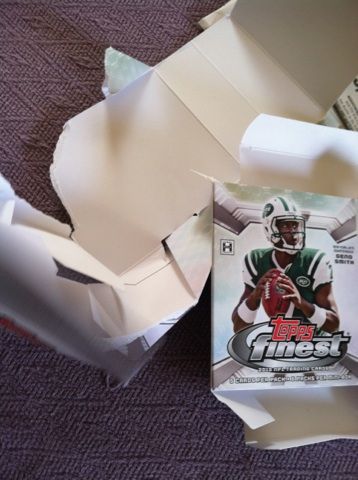 Box Breakdown:
2 Mini-Boxes Per Master Box, 6 Packs Per Mini-Box
1 Rookie Autograph Patch Card Per Box
1 Autograph Jumbo Relic Card Per Box
2 Finest Atomic Refractor Rookie Cards Per Box
2 Finest Moments Insert Cards Per Box
$110 per Box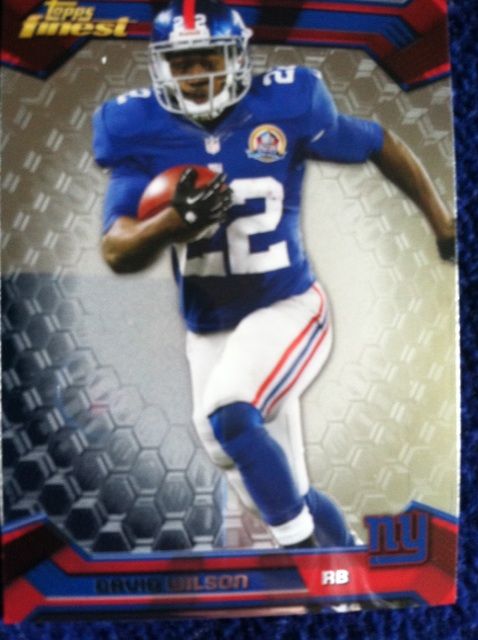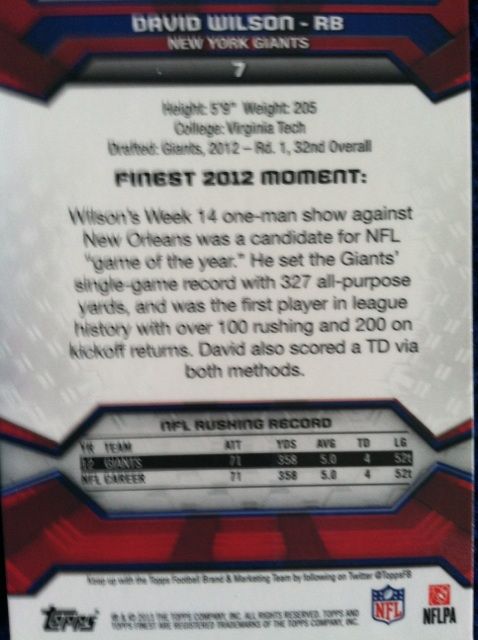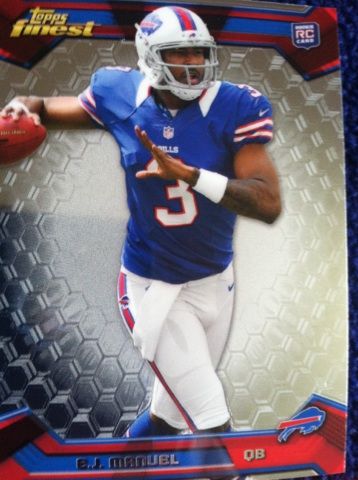 BASE CARDS:
I have always enjoyed the Finest base cards design. Now, it may not be the same Finest I once collected when first collecting cards with the peel away front, but the design, feel (feels like it still has the plastic on them) and appeal is still there. Almost like another Chrome to me.
I also like the fact that base rookies are added to the product. I am not a fan of products that only include top rookies as auto/jersey cards. I think this adds more value to a product.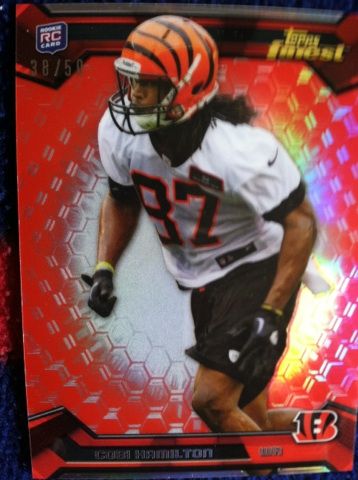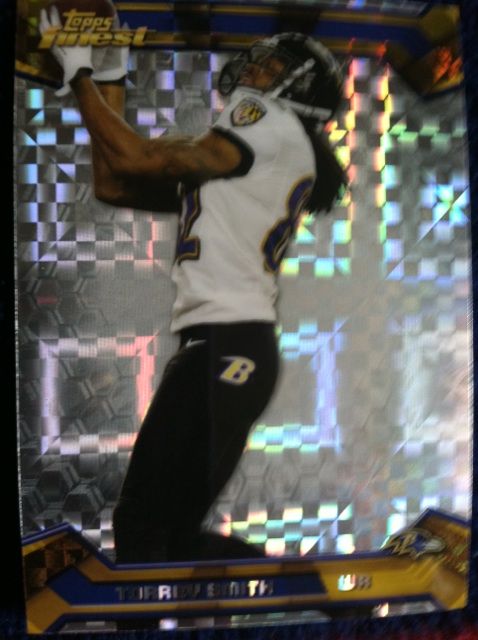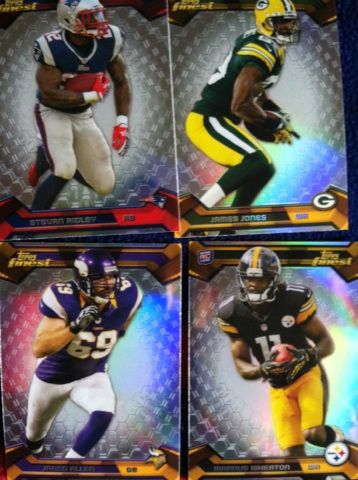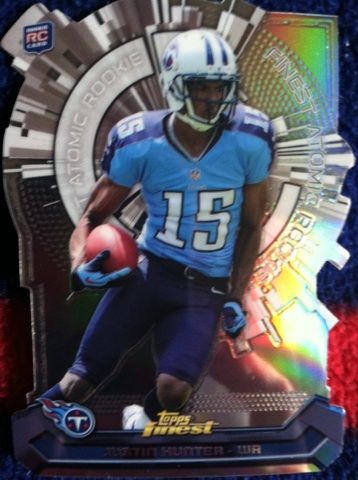 INSERTS:
Refractor parallels is where it's at. Always been a huge refractor collector. And this product has plenty of them to choose from. Here is the list:
- Refractor Parallel: Inserted 1:3
- X-Fractor Parallel: Inserted 1:6
- Blue Refractor Parallel: Sequentially numbered to 99
- Gold Refractor Parallel: Sequentially numbered to 75
- Red Refractor Parallel: Sequentially numbered to 50
- Prism Refractor Parallel: Sequentially numbered to 25
- SuperFractor Parallel: Numbered 1/1
- Printing Plates: Numbered 1/1
There are also Finest Atomic Refractor Rookies
that features up to 35 rookies featuring a perimeter die-cut on refractor technology and also fall 1 per Mini Box. We only got one.
Finest Moments includes 25 NFL Veteran and Rookie players featured with a defining career highlight. These are supposed to be 1 per mini box as well and didn't find any in our box.
The inserts however that we did pull are well designed and are not only collectible, but set-worthy building.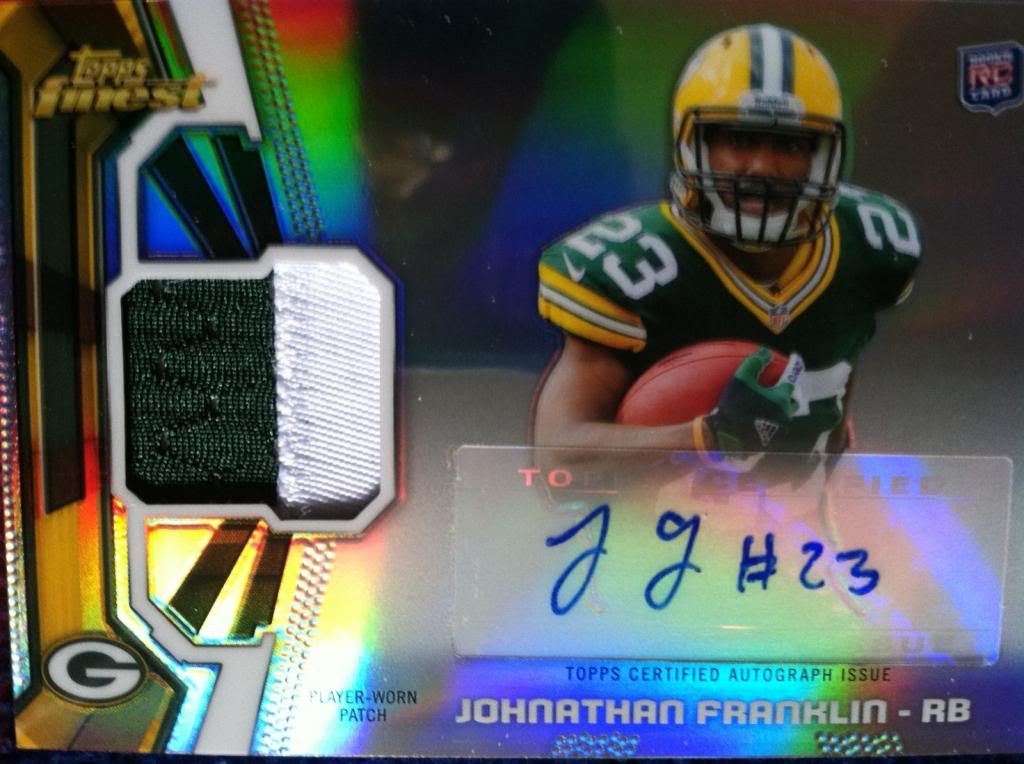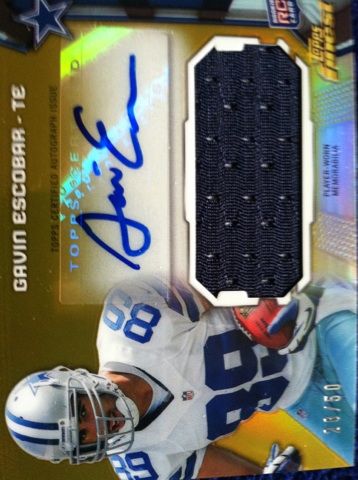 Gold refractor # to 50
And here was a big pull, now if only a better player, of an Rookie Refractor Autograph Variations that falls around 1 Per Case! And this one to boot is a blue refractor numbered to 25 when most are numbered to 50.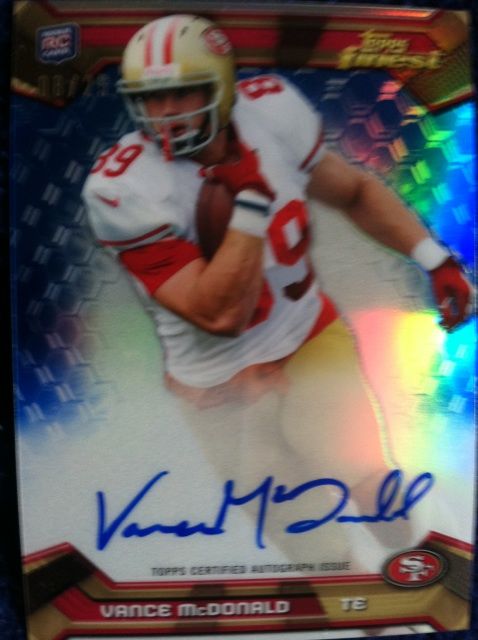 AUTOGRAPH CARDS:
You get one Rookie Refractor Autographed Patch Card (Up to 40 NFL Rookies featured with a multi-color patch and signature on Finest refractor technology) and Autographed Jumbo Relic Refractor (Up to 50 Rookie and Veteran NFL players featuring an autograph with a jumbo jersey relic swatch) per hobby master box. There should be one or the other per mini box. Our box came packed with a third hit. The one thing we wished here was that the players were better. Two TE's and a possible third string running back makes it a tough sell though we did get the case hit and a gold refractor relic/auto parallel.
OVERALL THOUGHTS:
Finest is fun and we have seen some tremendous hits from the product. Especially on the veteran front which isn't a normal thing for products like Finest that usually comes packing with Rookie auto/patches. But because of the lack of excitement in this years rookie class, I think a lot of companies are jumping on getting veterans added.
In terms of design, this product is outstanding. The glimmer and shine. The two color patches against the Finest technology. It's all here.
I do like getting two hits per box that are both relic/patch/autos. However, I would like a better chance at a top player. I feel in this break for $110 we didn't get that back with this player selection.
Let us know your thoughts on this product.