Valley Of Cards has become more than just somebody I work alongside with, but a good friend as well.
I don't just tweet any ones auctions out. I have to build a trust factor and know a bit about them. Not to mention, I wouldn't put myself apart of anything I wouldn't do myself. So not only do I tweet those auctions out, but I also participate in bidding on some of those as well. Like I have said before, he has a ton of great cards, ships stuff unremarkable even for a PWE and is just plain generous too.
Together we have given a ton of cards away and what you may not have noticed was that he also gave cards away without you even seeing. He private messaged individuals for their addresses and shipped them cards who always participated, but may not have won in the contests. If that's not a helpful/generous guy, I am not sure who is.
I recently won a few of his auctions and boy what a steal I got from them. At least in my opinion.
The autograph Darius Slayton and the jersey card above, $1.04!
Nice Slayton patch card, .99!
But, then came the unexpected......like I have said....overly generous dude.
He added all of this into my package when he sent it.
Kaden Smith has played pretty well as a late season pickup for the Giants in place of injured Evan Engram. Hopefully it will carry on and he will be on the team in 2020. I was sent close to 15 or more of his Prizm rookies.
Thanks so much buddy!
and if you haven't yet, check out....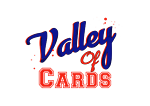 Click link to visit Valley Of Cards website or check out their eBay stores here
https://www.ebay.com/usr/valleyofcards-2
https://www.ebay.com/usr/valleyofcards
I promise you won't go wrong!